Adventure pool & sauna world Linstow
Van der Valk Golfhotel Serrahn

Adventure pool & sauna world Linstow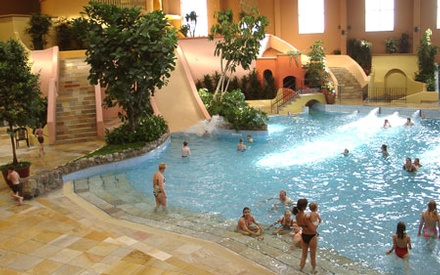 Adventure pool & sauna world Linstow
Dip into the boundless world of water: Let off steam, paddle or relax - there is something for everybody in the adventure pool of the Van der Valk Resort Linstow (6 km).
Whether you feel the noise of the speed on the chute or allow the elements air and water to act on your body in the whirlpool - in the adventure pool you are on an island far from everyday life - where a child can still be a child. A special treat for the little ones is the chute for children. In the nearby located play corner, friendships can be made and playthings tried out. Whether free paddling or simple relaxation at the pool bar, one thing is sure, a dip in this adventure pool is a beneficial experience.
Adventure pool:
€ 8.00 per adult / full-day ticket
€ 5.00 per child to 12 years / full-day ticket
Clear of all charges for children to 3 years.
Wellness and cosmetics processing
By arrangement
Sauna landscape with inside and outside area
€ 8.00 - 2 h.
€ 12.50 - 4 h.
Solarium
€ 2.00 / 4 min.